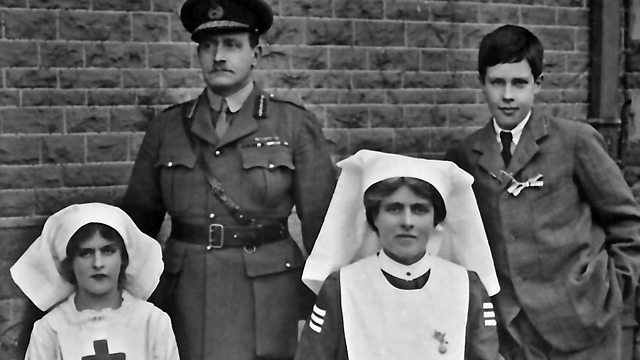 Stokesay Court, Shropshire: Soldiers' Sanctuary
Stokesay Court at Onibury opened as an Auxiliary Military Hospital in April 1915.
They offered 10 beds for recuperating soldiers but over the war these increased to 30, giving each soldier an individual room.
The hospital was overseen by Margaret Rotton, wife of Brigadier General Sir John Rotton.
Margaret Rotton was a charismatic lady, an inspiration to the men she and her staff looked after. As each man left her care she gave them a picture of Stokesay Court and a prayer book to take with them. She received quantities of letters from her former patients when they were back at the front, thanking her for her care and telling her what they were doing – news from the front line.
During their stay, men spent time playing whist, walking in the grounds and talking in front of a roaring fire in the hall. A place to recuperate and relax before returning to the rigours of the front line.
Location: Stokesay Court, Onibury, Shropshire SY7 9BD
Image shows clockwise from back: Brigadier-General John Guy Rotton, Russell Allcroft, Margaret Rotton, Jewell Allcroft
Photograph courtesy of Caroline Magnus
Featured in...
Places in Shropshire that tell a story of World War One

Medicine

—

World War One At Home

Hospitals, medical pioneers and the nursing contribution